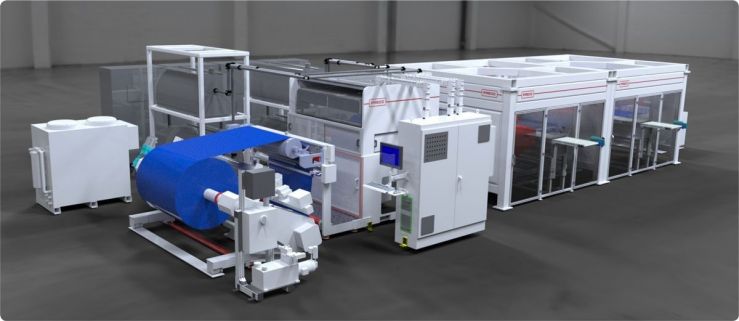 SOMERSET, WI, March 12 – Preco, Inc. is pleased to introduce our largest, most productive WebPro® model LB4500 series laser system used to produce multi-hole, flexible sanding discs. This world class, roll-to-discrete part laser system accepts a jumbo roll up to 60-inches (1.5-meters) wide, uses five (5) 2500W CO2 lasers with high power galvanometer scanners to create the desired geometry and employs four (4) spider robots to stack discs to the required quantity for downstream packaging.
Preco's Engineers applied our years of process & optical knowledge to optimize the usable laser energy with the tightest focus and appropriate fume extraction to create multi-holes discs from P40 to finer grits on a 24/7 basis. This combination provides the fastest and cleanest production for such a wide range of products that is unmatched by the competition. This technology can be applied to larger or smaller platforms for producing a wide range of coated abrasive discs or sheets, whether multi-hole or standard vacuum hole types.
Please contact your Preco sales representative for more information about this machine and our other offerings.