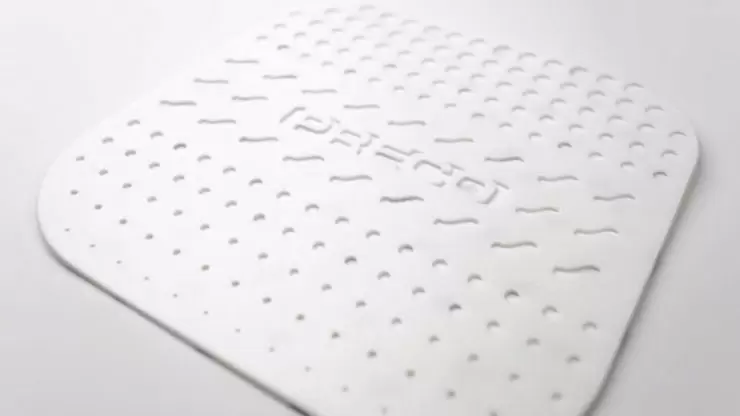 Laser and Die Cutting Foams
The variety of foams on the market including reticulated foams, open-cell foams and closed-cell foams that are routinely die cut however they can also be laser processed. Die cutters need systems that provide a clean and accurate cut part that reduces concavity in the processing. The benefit is more precision—part-to-part accuracy and tighter tolerances of parts cut.
Applications
Sporting Goods
Appliances
No hassle processing.
Converters who die-cut PSAs deliver benefits to their customers, including unique shapes, waste reduction, automated processing, and improved end-product quality.  To meet the needs of converters in these markets, Preco incorporates die-cutting techniques and processes such as kiss cutting, matrix removal, rewind, unwind, de-slugging, knock out and stacking, collating.  Laser processing PSAs and/or labels offer flexibility, precision and repeatability without the traditional limitations of other methods.
Preco die cutters can kiss-cut to the liner with an ultra-accurate micrometer stop when cutting different types of Foams.
INDUSTRIES
Aerospace
Automotive
Agriculture
Cosmetics
Electronics
Medical 
Packaging
MATERIALS
Silicone Sponge
PU Foam
Open Cell Sponge Rubber 
PVC Foam
PE Foam
PS Foam 
Non-contact processing
Reproducible precision down to ±0.051 mm
No tool wear - laser is always sharp
Fine details without breakage
Flame-polished edge in one step
Eliminate chipped edges
Speeds up to 25m/second
Square corners inside or out
Accommodates varying material thickness up to 4" thick on the same system with Preco adjustable roll feeds. 
Systems can be fitted with programmable heated platens to aid in sealing  or open and closed cell foams, and other heat-sensitive material 
Increased steel rule die life through accurate control of cutting depth via the powered Micrometer Ram Adjustment. 
Material stretch eliminated, deformed parts avoided by use of Preco presses that have a synchronized feed system. 
Increased system versatility. Preco presses handle both sheet and roll material. 
Simultaneous kiss cutting and through cutting possible with accurate depth control via Micrometer Ram Adjustment. 
Increased yield with closer nesting of parts through the Preco material handling system 
Die can be changed in a matter of seconds without tools through the use of swing-away roll feeds and pneumatic quick-change steel rule die clamps. Preco's microprocessor can store jobs in memory. 
Can handle parts with facings or pressure-sensitive backings. 
Custom-built for all industries and markets with help from Preco's Engineering and Design team.