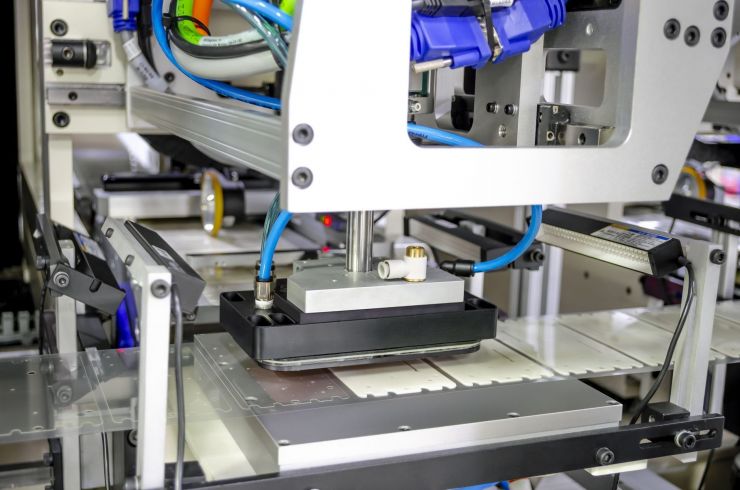 Hudson, WI, September 29, 2020 – To meet the growing demand for Point of Care and Diagnostic Sensors, Preco Medical has a three-installment phase of Preco equipment being manufactured and delivered by Preco's Die Cutting and Laser division. Recently, Preco Medical added two additional FlexPro® laser converting systems modified to be able to handle sheet fed or roll to roll processing. These units are currently being used to create devices for the detection of Covid-19.
Arriving in October is a Dual Laser Rotary System, the RCP-DL 12/16-13". To date, this will be the largest combined system featuring multiple lasers and web converting to provide cut on the fly and/or step and repeat cutting. This type of processing increases throughput and decreases the number of passes, thereby providing cost savings to Preco Medical clients.
The fourth system, the WebPro® Ultrafast, will be arriving in November. This is a roll to roll system with two alternative wavelength ultrafast lasers. In addition to allowing flexibility and integration of different lasers in one system, these new lasers allow for extremely small features and the processing of metalized films, circuits and difficult to process materials like Kapton and glass. The increasing array of technologies provides Preco Medical clients distinct advantages and "one-stop shopping" for complex project requirements.
The final installment arrives in the spring of 2021, the FlexStacker® II. It is similar to Preco's current four-module FlexStacker but designed with two-modules for those devices with fewer lamination stacking needs or devices needing assembly of more than thin-film laminate stacks such as sensors, molded components, or connectors. In Preco's continuous pursuit of improvement, the new FlexStacker will also have enhanced inspection features.
"We are excited to add these new machines into our offerings here at Preco Medical, allowing us to be able to meet and exceed our customer's ever-changing needs.
Ken Arvey
Executive Vice President – Preco Medical
PRECO, INC.
As the premier laser-based Medical Contract Manufacturing company, Preco Medical continues to remain the experts by providing first class service, unique manufacturing solutions and continues to make technology a priority.