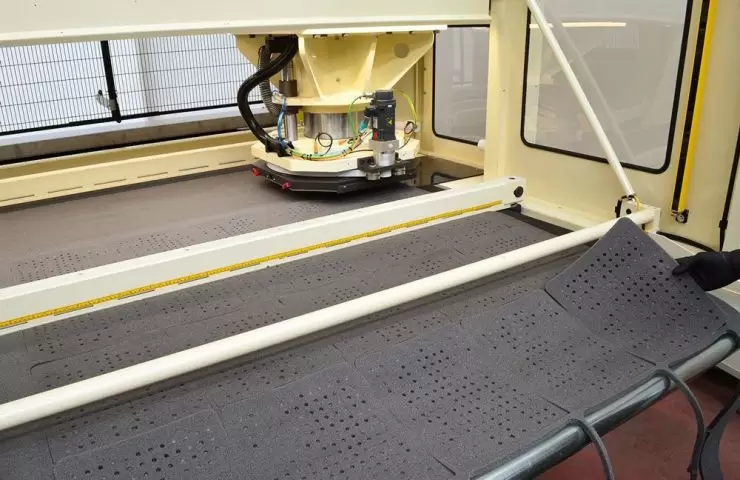 Preco Announces Partnership for Traveling Head Die Cutting System in USA, Canada, and Mexico Market
Lenexa, Kansas, May 22, 2020 – Preco, Inc. and Biko Meccanica S.r.l. have announced the formation of a North America focused distributorship whereby Biko automated traveling head die cutting systems will be demonstrated, sold and installed.
The new Preco automated traveling head press model EDP-W represents the highest automated system required to cut various types of materials into the desired shapes. Feeding of materials is automatic and managed by a transportation belt running together with a pinch and grab system. Available machine power permits convertor to cut products of different shapes from light to heavy material of varying thicknesses. This is achievable because the EDP-W offers a wide range of configurable cutting forces, cutting surfaces, and cutting head sizes.
The Preco/Biko die cutting machines will be offered only within the non-abrasive North American market. Machines offered will be the EDP-W 2050 (2050mm wide) and EDP-W 1650 (1650mm wide). Options for these machines include; different cutting tonnage, cutting head rotating on its axis 180°, automatic die change, unwinders for jumbo rolls, automatic stacking and conveying system, and waste winder. 
"We are excited to begin this partnership with Biko, a trusted machine manufacturer. With their machines abilities and the need we find here in the US, we believe that partnering together will present solutions that customers are looking for with a great system at a reasonable price," stated Ken Cavicchi, Sales Manager.
Preco Inc. Lenexa, Kansas is a privately held US company. The company has provided global engineering, die cutting and laser-based machine tool manufacturing and laser contract processing services for the last 40 years.  Preco, Inc. has the technical knowledge, and experience, to tackle design, integration, and support of the most difficult die cutting and laser processing and automation applications. Typical Preco customers can be found in the packaging, medical, electronics/energy storage, transportation and aerospace, industrial and defense industries.
Biko Meccanica S.r.l., located in North-East Italy, was founded in 1984 and has soon become a world-wide leader in the design and manufacturing of machines and plants for the converting and coating industry, to further
expand to many other sectors. With over 35 years of experience in the field of machinery manufacturing, Biko Meccanica can provide a full range of solutions, from standard machines up to fully-customized, built-to-order machines.
For more information about Preco, Inc. or its products or services, please call (913) 541-0066 or visit https://www.precollc.com/equipment-manufacturing/die-cutting-systems/edp-w-die-cutting-machine