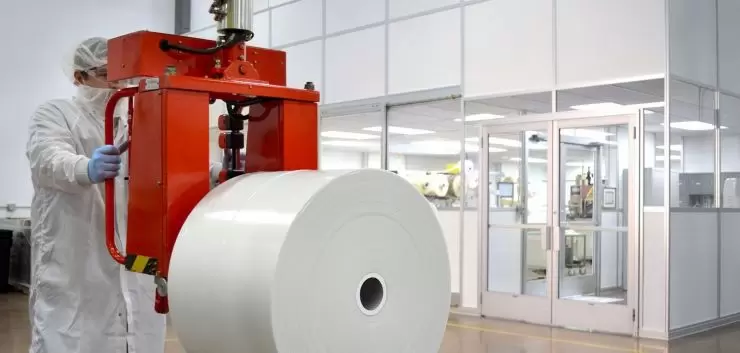 Preco has built its reputation on servicing customers with advanced laser and die cutting technologies as well as contract services. Preco's goal is to understand the changing needs of our customers so we now offer a more comprehensive manufacturing solution... Strategic Outsourcing. From procurement of raw materials to distribution of finished product, Preco can provide complete, vertically-integrated contract manufacturing solutions to improve any manufacturer's processes.
Strategic Outsourcing brings an added advantage over the services other converters can provide. This unique combination of proprietary manufacturing expertise, engineering knowledge and full-service supply chain management is what puts Preco at the forefront of providing a complete solution.
Preco's Strategic Outsourcing model offers start-to-finish strategies that streamline the manufacturing process and shorten lead times. Preco pools its manufacturing infrastructure, laser and die cutting technologies and engineering staff to create a customized solution. The benefit to the customer is a reduction of "total delivered cost", shortened lead times and ultimately maximum profitability. Throughout the process, Preco strives to provide on time delivery, unsurpassed quality and the best value for our customers' from design through final output.
While contract manufacturing is still an important component of Strategic Outsourcing, Preco will customize a program that includes many value-added services:
Product design and development
Process design and engineering services
Procurement and inventory management
Contract assembly and packaging
Equipment design and manufacturing
Project management
Warehousing
Worldwide distribution
Supply chain management
"Many companies, large and small, have discovered the Preco-advantage of our Strategic Outsourcing model," says David Johnson, Key Account Manager, Preco Contract Manufacturing Services. "In some cases, we are providing converting solutions to expand an existing product line. In other instances, we are breaking ground on a new product offering. We are currently involved in multiple joint ventures that are based on emerging technologies.
Strategic Outsourcing in Action
"Preco exceeded our expectations and was instrumental in bringing our product to market... on time and on budget."
Preco was approached by a manufacturer to die cut one part of a new product they were developing. Utilizing the Strategic Outsourcing philosophy, Preco was able to offer a more comprehensive solution. By embracing a customer-centric infrastructure, Preco designed a program to manage the purchase of multiple raw materials, mix components, design and develop converting equipment, assure consistent quality, manage yields, design packaging and create marketing/sales literature. After a successful product launch, the new product continues to gain significant market share.
Whatever the application, Preco takes pride in being able to scale our services to our customer's specific needs and bring value to their products."
A key benefit to partnering with Preco is a manufacturer's ability to transition from contract manufacturing to buying equipment and eventually bringing production in-house. When it is more economical to bring manufacturing back to a customer's facility, Preco can develop and manage the entire process. Because of the Strategic Outsourcing partnership, Preco can utilize what has been learned during the contract manufacturing process to recommend and manufacture the best system to make the transition as seamless as possible. Preco's contract manufacturing and equipment representatives will consult with the customer to design and develop the ideal system.
Whatever the application, whatever the challenge, manufacturers can count on Preco to design and manage a customized solution to meet their specific needs.
For more information on how Preco's Strategic Outsourcing can improve your bottom line, please contact: 
 
Mark Daun
sales@precoinc.com
(715) 247-3285