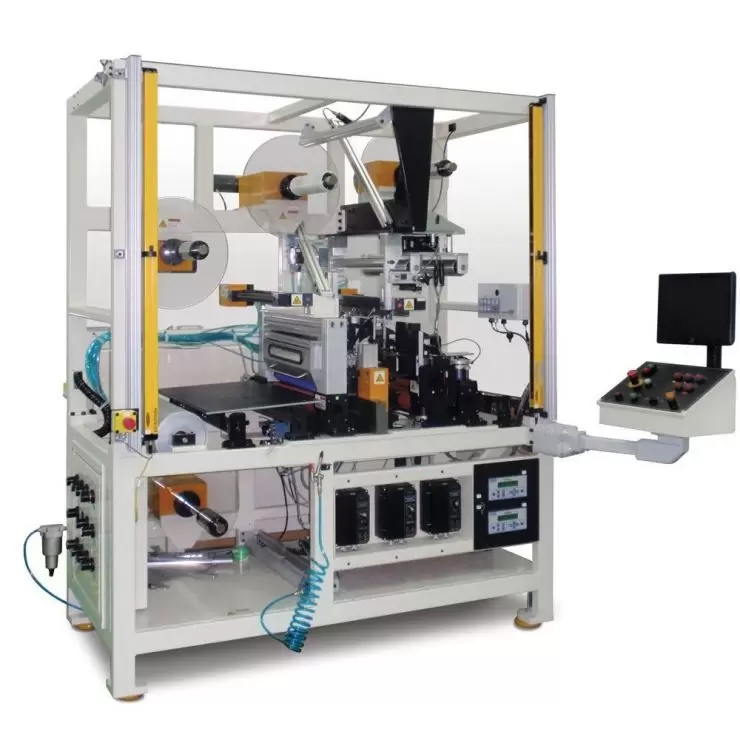 Leader in Pattern-to-Pattern Matching of Web Materials
Our process is used widely for the precise lamination of electronics and medical parts, as well as for simpler mass-produced graphical promotions. Preco creates several types of lamination systems, based on registration tolerance requirements, the need for selecting between in-line or freestanding construction, and the choice of pressure-sensitive or heated adhesive methods.
Precision placement.
Precise slitting and lamination of tandem strips to a base web or to indexed sheets can be accomplished with each strip having a close tolerance placement. The "Y" alignment accuracy is within ± 0.002 inch (±50 μm) for each strip.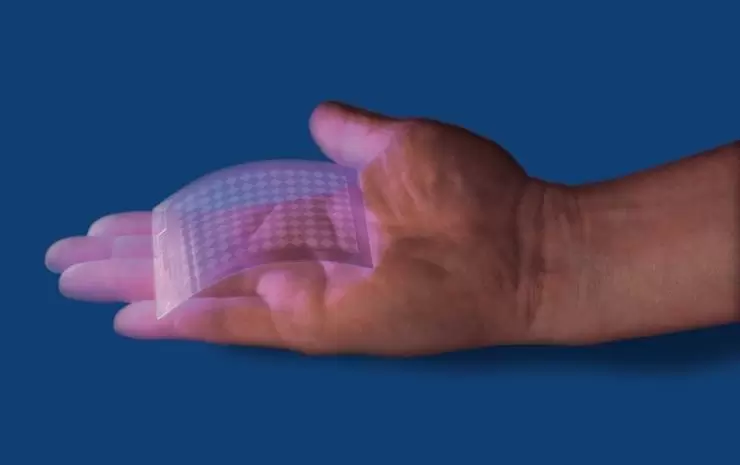 Custom System Options
Virtually all Preco lamination equipment is tailored to meet the performance criteria of its customers. Our designs often incorporate OEM-supplied components in order to manufacture turnkey production lines that go beyond the lamination process. Call Preco to discuss your next project so that we may offer a manufacturing solution for your company.
Capacitive Touch Screen media (CTS) such as applied to smartphones, tablets and readers have web-printed A&B transparent conductive layers. These components are registered and joined with optically clear adhesive into a blemish-free construction.
Registrered Sheet-to-Web Lamination
If two webs each contain a discrete pattern, one can be sheeted in order to match and then rejoined to the other base roll of material. During this process, we perform unique training and registration methods to the sheet, which take into account spatially oriented part location and nip roll coordination. This is often repeated in-line for producing a multiple-layer lamination. The multi-layered construction continues on for further treatment, and Preco then singulates by laser or hard tool from the web.
Registrered Web-to-Web Lamination
When one web must join another in exacting alignment without singulation, Preco employs laser cutting, die cutting, slitting or screen printing "just-in-time" to one of the webs. A choice from a number of positioning techniques is implemented, based upon the product part specification. This allows, for example, X-Y-Theta registration for discrete hole punching, while Y-only close tolerance alignment is chosen for exacting slitting results.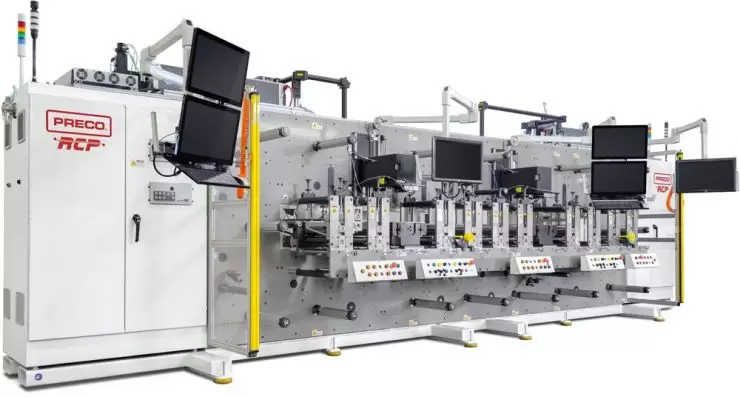 Rotary Converting Platform
The RCP carries out web-to-web lamination as a fundamental operation and possesses many more useful functions. Side-to-side web alignment can be controlled using an active web guide component to better than ±0.010 inch (±0.25 mm), and downline just-in-time cut to print tolerance is as good as ±0.004 in (±0.1 mm). In addition, the all servomotor-controlled RCP die cuts, slits, kiss-cuts and perforates. It also can be outfitted with the Preco FlashLiteTM digital scan head laser in order to provide many of these same tasks with techniques that augment hard tooling capabilities.